A word from the MEPI Coordinator: Mr. Ahaz Kulanga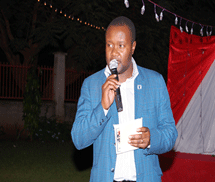 One of the objectives of MEPI is to ensure that the medical professionals are serving their communities. Different studies which have shown that there is a critical mass of human resource for health, especially doctors who are moving out of their countries to other countries and why doctors are moving from point A to point B. MEPI struggles to see how it can re-work this scenario to engage these health professionals who are graduating to become part of the healthy system in their own countries. In order to address this issue, we have proactively employed a staff member who will take care of Career Counseling. Also, we feel obliged to sponsor such activities that will inspire students to identify themselves by KCMC which will provide good stewardship of this medical college.
Tracking the Work of Kilimanjaro Christian Medical University College Graduates
Capacity Plus features their work related to a joint project of the Kilimanjaro Christian Medical University College and the Duke Global Health Institute. KCMC and DGHI are working to strengthen medical education for Tanzanian students through a $10 million US-funded grant as part of the Medical Education Partnership Initiative (MEPI).
An exultant white building surrounded by lush gardens, the Kilimanjaro Christian Medical University College (KCMUCo) gazes at Mount Kilimanjaro, known as "Mama Kili," with each sunrise. Located in Moshi, Tanzania, the school has been training physicians for over a decade. The first 15 medical doctors graduated in 2002.
While it is still a young institution, KCMUCo has been working hard to address the unmet health care needs of sub-Saharan Africa by increasing the number of health workers and retaining them in Tanzania. Through the support of the Medical Education Partnership Initiative (MEPI), the school is focusing on scaling up training, with the number of annual graduates rising to 150 to date. KCMUCo has also updated its programs of study to ensure that medical students are acquiring relevant competencies to provide care for rural and underserved populations.
Part of the issue is that there was no alumni database or tracking system to maintain contact with the graduates. KCMUCo does not know where the graduates are located or exactly what work they do. To assess long-term impact, KCMUCo wanted to ascertain its graduates' work status, current employers, and retention within Tanzania. The school was especially interested to learn about graduates pursuing careers in academic, research, and policy positions.
In recognition of the importance of graduate tracking, KCMUCo decided to employ a focal person dedicated to graduate tracking activities and career counseling. This position, which I hold, enables me to represent KCMUCo in the Graduate Tracking Technical Working Group among MEPI schools.
The Technical Working Group, which includes representatives from 11 MEPI-supported medical schools in 10 sub-Saharan African countries, focuses on implementation of the graduate tracking processes through collaboratively developed software, and provides an opportunity to share experiences among MEPI schools by supporting each other as we progress in the implementation process. CapacityPlus, together with the MEPI Coordinating Center, supported the Technical Working Group and its members in defining the business processes and functional requirements for graduate tracking that are relevant to the schools, and led the development, testing, and refinement of the graduate tracking software.
Our team at KCMUCo is doing this for various reasons: assessing and improving institutional quality; monitoring graduates' employment outcomes; informing our curriculum review and mentorship for current students; and encouraging graduates' participation in research and other academic activities. An expected outcome is to have graduates who will be more engaged in the development of the institution through research, training, and service provision, thereby increasing the number of high-quality health workers serving the population.
The contribution a graduate tracking system will have in locating doctors and discovering their migration trends is clear. However what remains undervalued is the impact the system will have on the universities' ability to improve the quality of medical education.
Our team intends to use the graduate tracking system to improve the quality of medical education. The development of graduate tracking software has been a collaboration among the 11 schools. Here are some examples of the important role KCMUCo has played in the development process:
In collaboration with the University of Zambia and Stellenbosch University, we presented the work of the Graduate Tracking Technical Working Group at the MEPI Symposium in Mozambique.
We participated in the K4Health East Africa Regional Share Fair in Tanzania by sharing our experience with using graduate tracking to learn more about how graduates are providing family planning services, as well as how alumni might network with students to improve medical education.
Through the efforts and leadership of the Technical Working Group, we conducted a proof of concept at KCMUCo in advance of the user validation workshop and preparation for the graduate tracking software's pilot phase. By completing the proof of concept, we were able to demonstrate that the software can be used in a functioning medical school if institutional support is obtained and other stakeholders are involved in the planning stage.
Working with the technical support arm to the Technical Working Group, CapacityPlus, KCMUCo hosted a second graduate tracking workshop for members of the Technical Working Group to further their aspirations for a graduate tracking software to come true!
Alumni and Career Counseling
KCMC-MEPI started an Alumni and Career Counseling office to identify interests among medical students , to serve as steward/facilitator of student interest groups or councils and to assist students in choosing career paths outside of patient care, e.g. research, basic sciences, etc. Student driven activities support the work of this office. The alumni component includes graduate tracking and alumni engagement.
Career Counseling Activities
TRAINING TODAY'S DOCTORS FOR HOSPITALS TOMORROW; INTRODUCING OUR MEDICAL STUDENTS TO PRINCIPLES OF HEALTH INFORMATICS
Considering the increasing impact of technology in contemporary society, health care services have not been left behind. KCMC has realized the need to explore current applications of health informatics and to identify a number of issues associated with the use of technology in health care. Thanks to Mark Lancaster and his team for providing a free Health Informatics certificate course online for KCMC students and staff. The six weeks course will provide a foundation for ongoing exploration of health informatics. At the end of the course, students will:
Have a sound understanding of the increasing influence of information technology and communications technology on daily lives in general and health care in particular
Understand the scope, concepts and some common terms of health informatics
Understand the range of applications of health informatics in the areas of administration, education, clinical practice and research
Articulate the design, processes and use of information systems in health
Understand the drivers influencing the emergence and success of telemedicine
Be conversant and confident in the range of clinical, educational, research and administrative applications of Health Information Systems.
Graduate Tracking
Mapping the footprints of KCMC doctors through Graduate Tracking (GT)
One of the key activities in the MEPI Alumni and Career counseling is to determine where the KCMC trained doctors go after graduation.
Locating graduates is an iterative process that utilizes multiple approaches: Through Alumni & Career Counseling, KCMC-MEPI has started a systematic way to locate graduate information in an effort to create a database for all the graduated students and to obtain the most recent graduate contact 
information.
Prior to this, The Public Health Informatics Institute (PHII) conducted key informant telephone interviews with the graduate tracking focal persons from 11 MEPI institutions, which served as input into the development of a graduate tracking process and to establish the preparedness for different tools and technologies. A workshop was later held in Zambia to determine the graduate tracking needs of MEPI institutions and to define requirements to support the graduate tracking needs through collaboration with Capacity Plus.
GT includes inputting all graduate information provided by the University Registrar's Office into a graduate tracking system.  
This will be accomplished through either the creation or updating of paper records from the manual entry of the graduate information into the electronic graduate tracking system, or  importing an electronic file into the electronic graduate tracking system.
Methods
There are many ways to communicate with graduates including: printed materials (banners, fliers, etc.), email, text message, in-person events and lectures, social media, published or publicly available reports, etc.
Administering surveys in situations that many graduates can be located at once, including large group settings or Social Media sites (i.e., Facebook, LinkedIn, etc.);
Gathering graduate contact information from other graduates already located
Updating graduate information in the system
All graduate information obtained through the surveys and follow-up activities in either a paper based or electronic system
Why track graduates?
University systems around the world are increasingly recognizing the importance of gathering information about and from their graduates in order to:
Assess and improve institutional quality
Monitor employment outcomes
Adapt old, and develop new, curriculum and influence institutional performance management systems
Provide information to policy makers and work force planners for use in shaping future education policy
Improve 
quality of current programs and services (including career counseling) and their relevance for employment (institutional development).
Provide info to current and prospective students to assist them in making informed course and career decisions
Collect comparable data for benchmarking institutional performance.
Alumni & Student Highlights
Dr. Aisa Shayo (MD,MMed,DTM&H)
The first KCMUCo graduate

Dr. Aisa graduated in 2002 as a Medical Doctor. She was the first person to register for medical training at KCMC and holds the number TU/001/001. Her first name also holds the first letter of the alphabets. DrAisa later graduated for MMeD in Pediatric and Child Health.After graduation, Dr. Aisa decided to remain at KCMC and has been a Lecturer at the Medical School  since 2007. She is the Vice Chairman for MEWATA Kilimanjaro 2014 and a PI in study with Duke KCMC Collaboration as aPediatrician. She is the Pediatric contact person EGPAF KCMC and sometimes acts as the Departmental Head.Dr. Aisa is also the MD3 Coordinator in PediatricKCMuCoShe is a member of major professional association like Medical Association of Tanzania (MAT), Medical Women Association of Tanzania (MEWATA), College Academic Staff Association (CASA), among others.Outside of work:In her free time, Dr. Aisa likes playing with Kids, reading, tutoring, traveling and web surfing. Dr, Aisa says she is a real Chagga woman who does who does not take alcohol or smoke. Socially, Dr. Aisa visits the Member of Moshi Club where she is registered as a member and sometimes she socializes with the members of Platinum Family Moshi in which she is a 'family' member. She speaks fluent English, Kiswahili, her mother tongue Chaga. She can also communicate fairly in French. Dr. Aisa is married and has been blessed with two Handsome Boys. Her Christian mortal is: "The will of God will never take you where the Grace of God will not protect you"
Ummehani – MD2 Student
Letter to first year studentsDear First Year Student:
I hope you are doing great. I am very pleased to hear that you have been selected to join first year at KCMC. I am sure you must have been very excited when you heard the news. First year of medical school comes with a lot of interesting and new things to learn. My favorite subject was embryology where you learn how the human body develops from a single cell to a complete human being.Apart from daily studying, following a study timetable, and proper time management,I would like to share with you something very important that I do daily. I call it "A 30 minute goal achieving break". I spend 30 minutes daily, usually in the early morning to give myself this break from daily routines. I divide the 30 minutes into three parts of 5, 15, and 10 minutes respectively.I spend the first 5 minutes to write down my goals. I write down my daily, weekly and yearly goals. Repeating this everyday helps to create a positive attitude towards achieving my goals and dreams. I spend the next 15 minutes to read anything that I know will take me a step closer to my goals.  This may be an article, or the latest discovery in medicine, or anything interesting. I spend the last 10 minutes in silence for praying to God to bless me through the day and help me achieve what I have planned for the day.I have seen tremendous improvement in my attitudes towards achieving my goals. I wake up every morning with a fresh new positive attitude that revolves in my mind through out the day. Reviewing your goals everyday will help you to make proper decisions about your career as well as well being through out your medical studies.I wish you all the best as you start a new journey in life. Hoping to hear from you soon.