Jicheng Gong, PhD (Post Doc)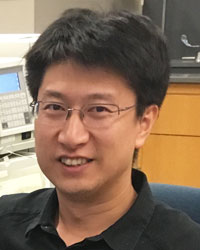 Jicheng is working as a postdoctoral associate in Dr. Zhang's lab. His research interests include (1) discovering novel biomarkers to investigate the health effects of occupational and environmental toxic exposures and the underlying physiological mechanisms, (2) examining the effects of genetic variance on the human response to environmental toxicants, and (3) developing exposomic methods to investigate the association between human exposure and disease. | Jicheng.gong@duke.edu
Ming Kei (Jake) Chung, PhD (Research Scientist, DKU)

Dr. Chung received doctoral training at the Center for Exposure Biology at UC Berkeley and has expertise in exposure biomarker assessment and discovery by immunoassays and mass spectrometry. He has research interests in adductomics, metabolomics, and exposomics, with a recent focus on developing methods to study the blood exposome. His long-term research goals are to discover unknown environmental risk factors for chronic diseases through exposome-wide association studies (EWAS) and to study the molecular effects caused by environmental exposures using a systems biology approach.
Dr. Mingquan Li (Post Doc)
Dr. Mingquan Li is a postdoctoral researcher working under professors Jim Zhang's and Dalia Patino Echeverri's mentorship. His main research interest is to investigate environmental economics and management as it relates to: (1) Environment and Sustainable Development; (2) Environmental efficiency and environmental total factor productivity: modelling and case study; (3) Environmental regulation, industrial relocation and environment/pollution; (4) Electricity policy, environmental pollution and economic development in China.
Xiaoxing Cui (PhD Candidate)
My research focuses on the exposure assessment of air pollution and its health impact on human health at the population level, with exploratory investigations on the mechanisms of toxicological processes as well as effective interventions for exposure reduction. Through exposure assessment at the population level, I aim to identify the parameters of exposure that are most relevant to downstream health effects using data from airborne pollutants, including particulate matter, ozone, nitric oxides, SO2, and CO. Of the adverse health effects, I am interested in the disruption of respiratory and cardiovascular function via induction of oxidative stress, particularly among susceptible populations such as children and individuals with pre-existing diseases. Through designing and implementing epidemiological studies on indoor air filtration in urban areas of developing countries, I hope to investigate the effectiveness of interventions available for reducing air pollution exposure, as well as discover novel biomarkers that provide a more accurate characterization of personal exposure and early health effects. xc59@duke.edu | LinkedIn
2013 Master of Science in Public Health, Occupational and Environmental Hygiene, Johns Hopkins University (Baltimore, MD)
2013 Certificate in Risk Science and Public Policy, Johns Hopkins University (Baltimore, MD)
2011 Bachelor of Medicine, Preventive Medicine, Peking University (Beijing, China)
Drew Day (PhD Candidate)

Drew uses field studies in China to evaluate human cardiopulmonary responses to interventions that prevent exposure to ambient and indoor air pollutant mixtures. Using biomarkers of cardiopulmonary disease risk in biofluids as well as in evaluations of cardiovascular and pulmonary function, he is attempting to associate different types of cardiopulmonary responses and exposures to different components of the air pollutant mixture, including PM2.5, ozone, and ozone-reaction products. The different ways in which the interventions, which include policy-based air pollutant emission reductions as well as personal exposure reduction through different filtration strategies, reduce certain pollutants allow for the separate evaluation of different types of air pollutant exposures and their health effects under real-world conditions. | drew.day@duke.edu
Hailong Han, BS (Laboratory Technician)

Hailong received a B.S in applied chemistry from Heilongjiang University in China and has significant experience conducting water and air pollution monitoring along with various laboratory based sample analysis methods. | Hailong.han@duke.edu
Linchen He, (PhD Candidate)

Linchen He recently graduated from the Nicholas School of the Environment at Duke University, where he received a Master of Environmental Management degree and a certificate in Sustainable System Analysis. He is interested in developing sustainable environmental and/or technological systems to both improve environmental quality and solve environmental problems. For his research interests, he is broadly trained in the field of environmental engineering, science, and environmental nanotechnology. Currently, he is working in Dr. Zhang's lab as a research technician hoping to get more training in the area of environmental health. In his free time, he loves to play guitar and work out in the gym| Linchen.he@duke.edu
Marlyn Duarte, MSc (Research Analyst II)
Marlyn has eight years of experience managing and implementing all aspects of research projects and studies, from recruiting and data collection to study design. She is also experienced in research safety/compliance as well as industrial hygiene. Marlyn serves as administrator for  the RESAC and RAMNUC Centers and as hygiene officer for the EBC laboratory to ensure compliance with safety training and Duke safety policies. She's an avid hiker who likes to bird watch and photograph the nature surrounding NC| md219@duke.edu