The 2018 Duke One Health Training Program will be held May 17th through June 10th, 2018.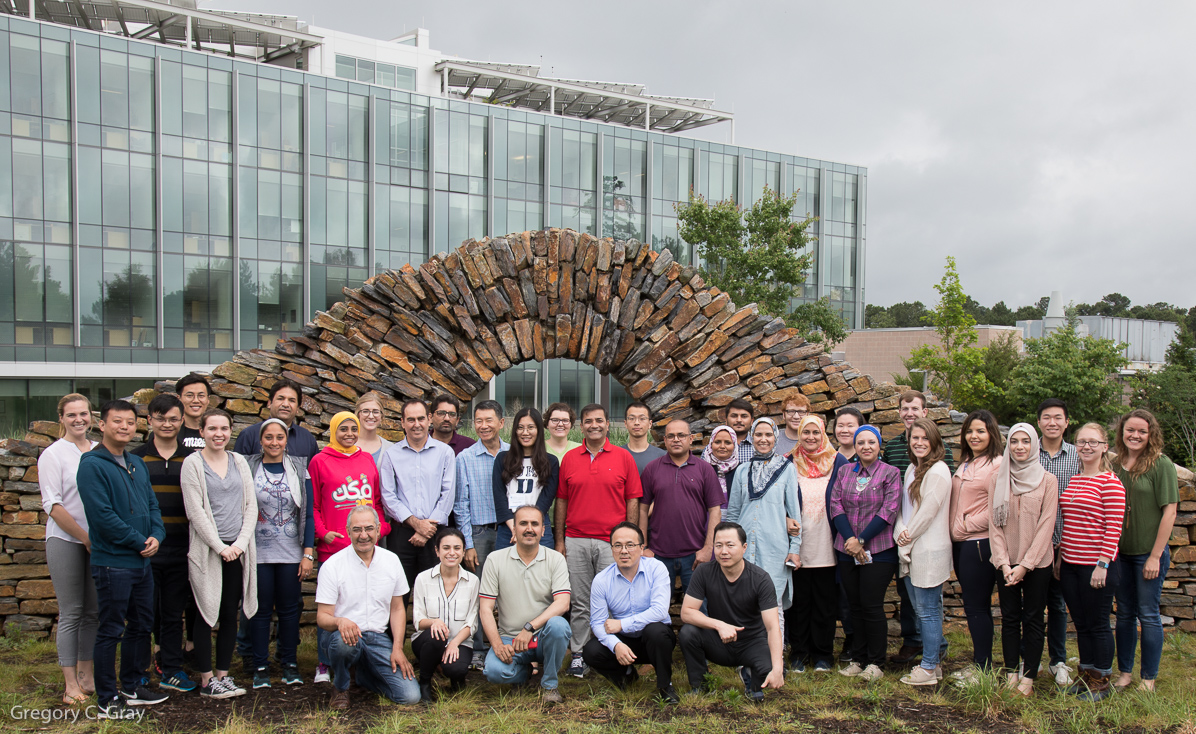 First year DGHI Masters students and DGHI undergraduates (with special Department Chair permission) may take one or more of the four Duke One Health courses below in May or June (summer term). For more information regarding how to register please contact DGHI's Sarah Martin. For any additional information or to request an application, please contact Program Coordinator, Jane Fieldhouse.
The 2017 Duke One Health Training Program class included 42 scholars from 7 countries: China, Egypt, Lebanon, Mongolia, Morocco, Pakistan and the USA.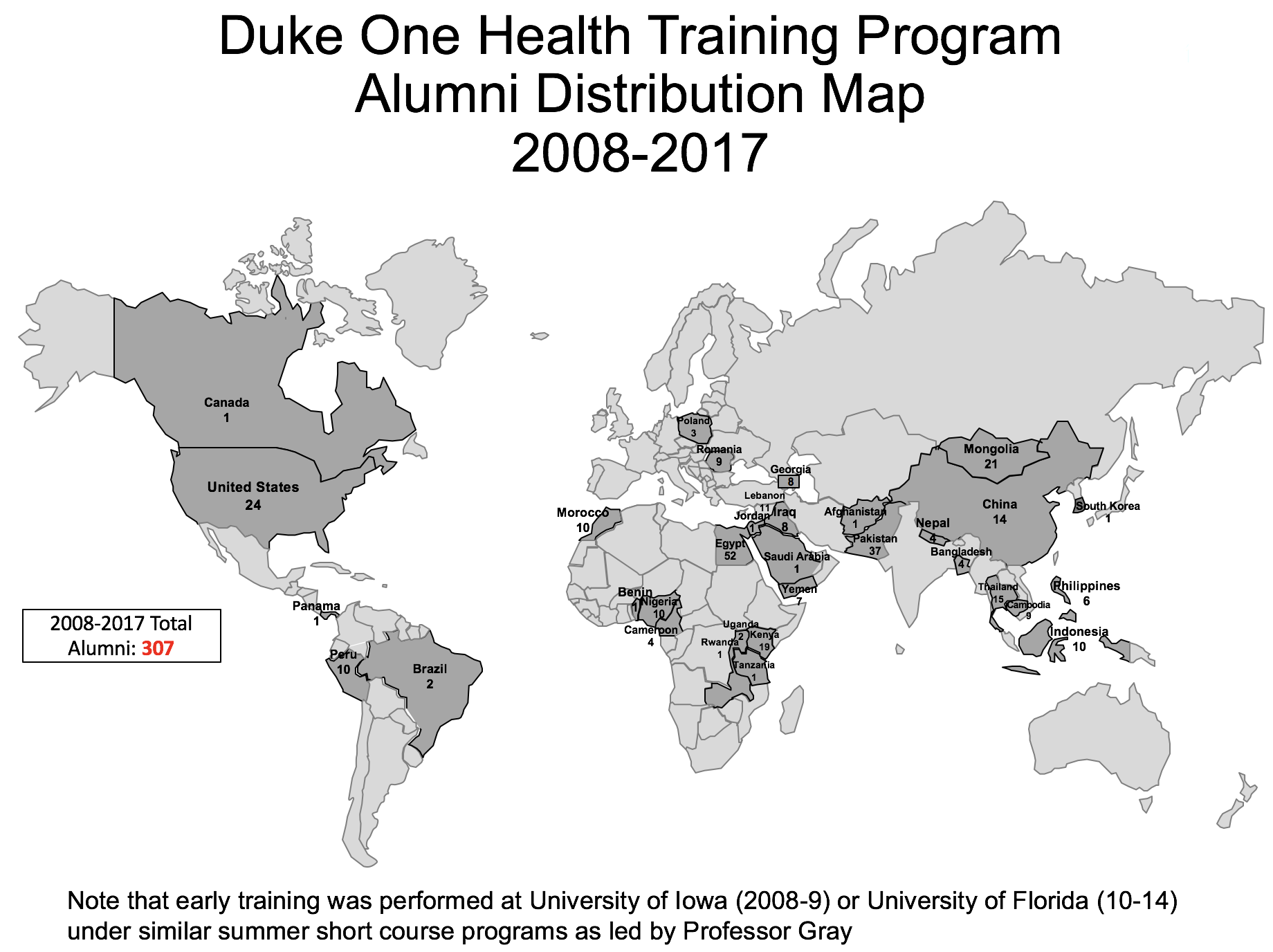 History
This training was originally developed as a 12-credit-hr certificate program, by Dr. Gray at the University of Iowa, where it was offered annually beginning in 2008. It was then moved to the University of Florida where Dr. Gray served as Chair and Professor in the Department of Environmental and Global Health. While at UF, the training program was revised from a 12-credit curriculum focused on emerging infectious disease research to  a 9-credit curriculum centered around the concept of One Health. In August 2014, Dr. Gray moved to Duke University where the program was adapted to a similar 9-credit format with the following objectives.
Introducing the concept of One Health problem solving which combines public health, veterinary health, and environmental health training
Strengthening global surveillance
Considering interventions to reduce infectious disease public health threats. The course work involved training in One Health, epidemiology, and virology (particularly influenza), as well as achieving better collaborations between US governmental agencies and various ministries of health or agriculture.
Program Format
Each fall, students will be nominated by representatives from sponsoring organizations. Next nominated students are invited to submit applications to Duke as post-baccalaureate students. The application involves submission of official transcript(s), a statement of purpose, a resume, TOEFL scores (as appropriate), and an Application for the One Health Training Program. Contact the Program Coordinator (jane.fieldhouse@duke.edu) to request an application for the Summer 2017 One Health Training Program.
A bachelor's degree from an accredited college or university is required, with translated and certified transcripts demonstrating a minimum GPA of 3.0 on a 4.0 scale, or foreign equivalent, and equivalency to a US bachelor's degree. Applications will be reviewed by an admissions committee.
Consistent with requirements of the Duke Graduate School, the Test of English as a Foreign Language (TOEFL) will be required of applicants for whom English is a second language and who have not been enrolled for one year or longer at an institution in an English-speaking country. Residents of U.S. territories and protectorates must submit TOEFL scores.
Visas – International students require visas for travel to the United States. As visas may take 4 or more months, international students selected in December should be able to attend classes in Durham the following summer. Staff will work with Duke's Visa Services office to help students obtained their visa.
Student Orientation – After their selection and before they arrive in Durham, students will be asked to complete a number of online training courses to prepare them for their concentrated summer training. These courses include human subjects training, blood-borne pathogens training, and basic biological safety training. Students will also gain access to Duke's course management system where course materials will be available and to purchase Duke required student health insurance.
Housing in Durham – Staff will coordinate housing in Durham for the 3.5 weeks of intensive summer training. Typically students will stay 2 to a room in an extended stay hotel or similar establishment. Internet connections, kitchens, and laundry facilities are available. Grocery stores are located nearby.
International and local travel – Staff will coordinate international and local travel for students.
Completion – A completion certificate will be awarded after a student successfully completes 9 credit hr of prescribed course work with a grade point average of 3.0 or more.
Future application of credit – Students who complete the One Health Training Program and who apply and are accepted into Duke graduate Global Health Institute programs may transfer all their credits (course work with a B or better) towards the new degree program.
Costs/Financial Aid – Coursework costs vary for non-Duke students; international students; Duke-NUS and Duke Kunshan University (DKU) students; Duke post-doctoral fellows; and for those not seeking course credit. Scholarships may be available for international applicants from Middle Eastern and North African countries. For more information on funding your One Health training please contact Program Coordinator Jane Fieldhouse (jane.fieldhouse@duke.edu).
Curriculum (9 credit hours total) – Training is directed at strengthening sponsor programs in epidemiology, biostatistics, and virology (particularly respiratory viruses) and winning better collaborations between Global Health partners and various Ministries of Health. The curriculum consists of four on-campus courses delivered in an intensive format.
Summer Courses On-campus:
One Health: Introduction to the One Health Approach – GLHLTH 731 (2 credit hrs). This 7-day morning course will introduce students to the principles of employing the One Health approach in preventing and controlling infectious diseases. It includes include a practical overview of host factors, environmental factors, and microbiological factors that influence this dynamic field of study. Through lectures and exercises, students will be introduced to infectious disease surveillance, diagnostic tools, outbreak investigations, vaccine trials, public health interventions, biodefense, emerging infectious diseases and analytical approaches as they pertain to infectious disease prevention and control.
One Health: Public Health Laboratory Techniques – GLHLTH 739 (1 credit hr). This 5-day afternoon course will introduce students to public health laboratory methods. A special emphasis will be placed upon respiratory virus work, especially influenza.
One Health: An Introduction to Entomology, Zoonotic Diseases, and Food Safety – GLHLTH 735 (3 credit hrs). This 5.5-day, concentrated course will introduce students to the epidemiology and control of entomological, zoonotic, and food-borne diseases. Each day there will be 3 hours of lecture and 3 or more hours of field activity. The course is comprised of readings, lectures, field studies, laboratory exercises, and term paper. Zoonoses endemic to the Southeastern United States are emphasized.
One Health: An Introduction to Environmental Health – GLHLTH 732 (3 credit hrs). This 5–day concentrated course will examine sources, routes, media, and health outcomes associated with biological, chemical, and physical agents in the environment. Effects of agents on disease, water quality, air quality, food safety, and land resources are reviewed, as well as legal frameworks, policies, and practices associated with environmental health and intended to improve public health.