On November 4th, 2015, the second annual Coppoc One Health Lecture invited Professor Gray to deliver a speech about novel influenza viruses, which can cause disease outbreaks in both animals and humans. The lecture, held in Lynn Hall, Purdue University, Wednesday afternoon at 4:30 p.m., drew a crowd of about 60.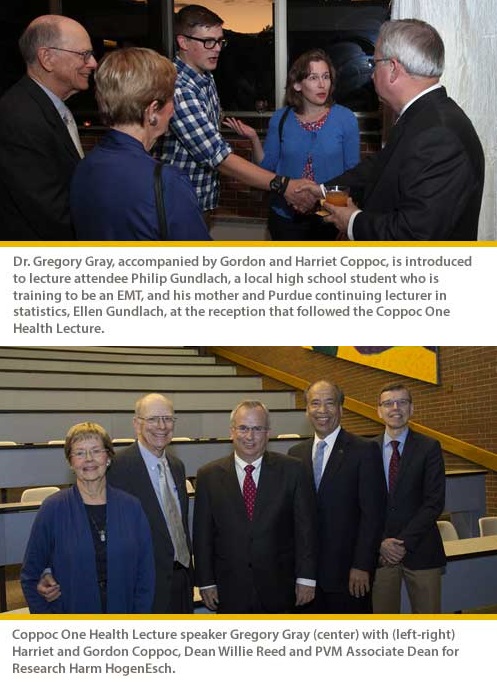 Speaking on the topic "Modern Livestock Production and Novel Influenza Virus Generation: Are the Benefits Worth the Risk?", Dr. Gray stressed the importance of taking a "one-health" approach in addressing emerging infectious diseases. Noting that veterinary professionals are not being thought of as players in planning for dealing with pandemic influenza, Dr. Gray said it will take young people reaching across fences between disciplines, to effect change in the way these "wicked" disease problems are addressed. He encouraged veterinary students to not be afraid to propose ideas. "Do whatever you can to move things forward," he said.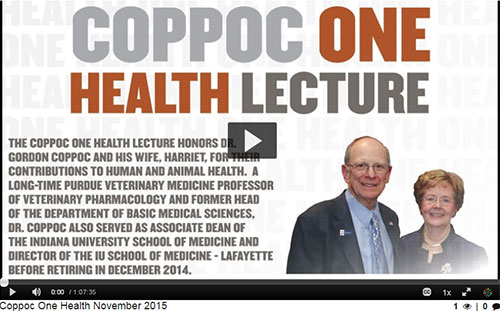 The lecture was followed by a reception in the Continuum Café. The Coppoc One Health Lecture honors Dr. Gordon Coppoc, Purdue professor emeritus of veterinary pharmacology, and his wife, Harriet. A longtime Purdue Veterinary Medicine faculty member and former head of the Department of Basic Medical Sciences, Dr. Coppoc also served as director of the Indiana University School of Medicine-Lafayette and associate dean of the Indiana University School of Medicine before retiring in December 2014.